The month of March has been busy, but we didn't want to let this month go by without sharing about one of our employees who we appreciate and has done such a great job here at Heartland Patrol and Investigations.
Travis Ponds is our full-time nightly dispatcher. He responds to calls for our clients, directs the calls to the officers, and is in charge to be the first one to give a peace of mind to our clients. He has been with us for over 2 years now. Travis grew up in the Oakliff area and finished High School in Desoto, Tx. He was raised primarily by his two grandmothers who instilled strong values to overcome the difficulties that comes with being a teen surrounded by negative influences. When you meet Travis and get to know him you can see he has an old soul, grounded by strong family values, and the love he has for his children and wife.
He is a visionary, and a man who takes responsibility, and learns his lessons that help him become better. When asking him about his dreams, he shared his dreams are to see his family's dreams come true first. We were touched by his will to get his family to reach their dreams before his. He is currently investing to help his wife open a business in her field.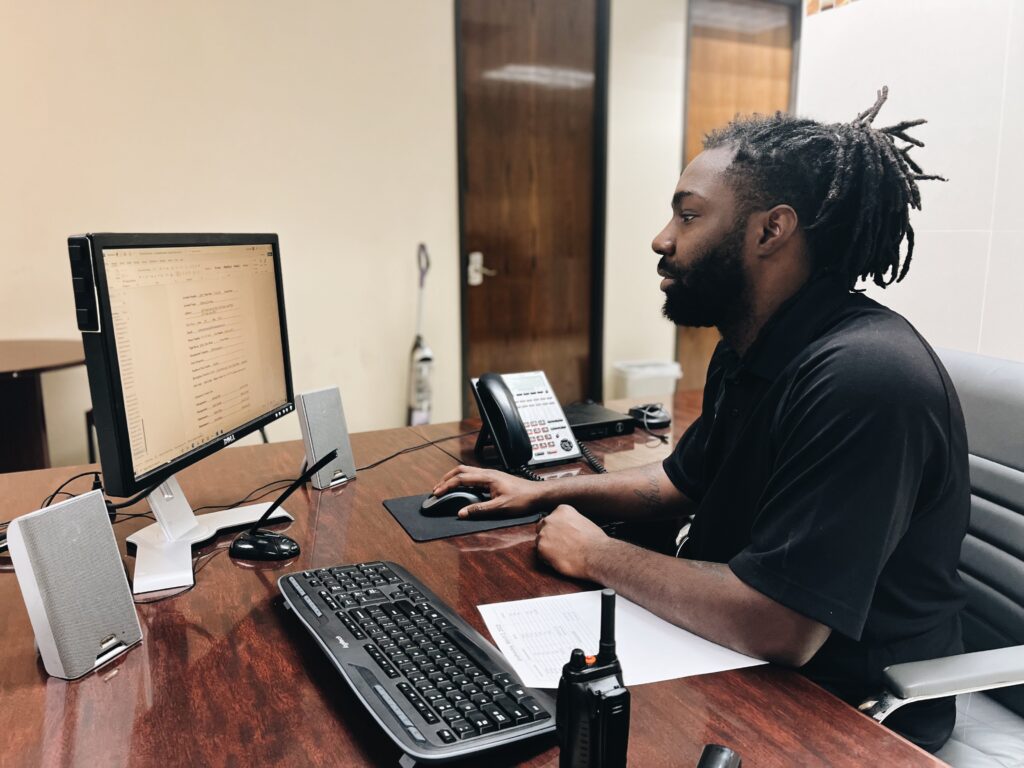 We can see how the two people that have been his biggest influence, and role models have made him to be the selfless and loyal person he is today. The way he sees things, are due to his grandmothers, who he thanks for his healthy childhood. They stepped in to make sure he grew up around love, a safe place, and good influences. While his mother's mom, protected him from ever going too far into the wrong road, and provided everything he needed, his dad's mom instilled courage, and leadership skills that a father, and a visionary needs in the world. What he holds onto today, that has allowed him to carry a peace of mind is a lesson his grandmother Diane shared with him, "Never stress over the things you can't change".
Travis holds on to this even while he is at work. He shared with us the times he has encountered tough calls, and how as a dispatcher you must have self-control, and stay calm to help the stressful resident or client. He has learned to be a quick multitasker, think on his feet, all while giving excellent customer service. He shared how he understands he is the first impression of our company, so each call is important to take it with care. What he appreciates the most of this job, is he genuinely enjoys the atmosphere of the workplace, the benefits that we've provided such as PTO, and the coworkers he gets to work with. We were happy to know he enjoys being part of the Heartland Team. We are proud of how he has served our client's and appreciate his work, and who he is.