It is typical to think of a man when you hear the words, "Security Officer". But here at Heartland Patrol, we like to break stereotypes and strive to give the opportunity to anyone who is up for the job. Meet Lynn Davis, a woman with many hats. Lynn is one of our officers for our city contract, who isn't afraid to go, assist, and take part in some of the toughest situations an officer confronts in the twilight hours. Born and raised in Wichita, Kansas Lynn, a daddy's girl grew up in a military home with a lot of structure. Her parents, a military dad, a detective for Sedgwick County; and a mom, who was a supervisor for the Veterans Administration, raised her to be courageous and strong. Lynn was not afraid of tough work or challenges. Her upbringing led her into the military in 1981 as a 91B10 Medical Specialist, Sharpshooter M16, and Expert Grenade. She also gained skills in the aircraft industry where she became a sheet metal mechanic. Lynn worked for Cessna Wallace, Beechcraft who became Raytheon, and worked with Boeing Wichita Airplanes for ten years. Texas found a special place in her heart when she came to San, Antonio to do her AIT and while she lived here, she always told herself she would come back. After three children, and taking a job offer, she landed in Dallas, Tx. The job ended up being too far away, which led her into the security industry in 2001.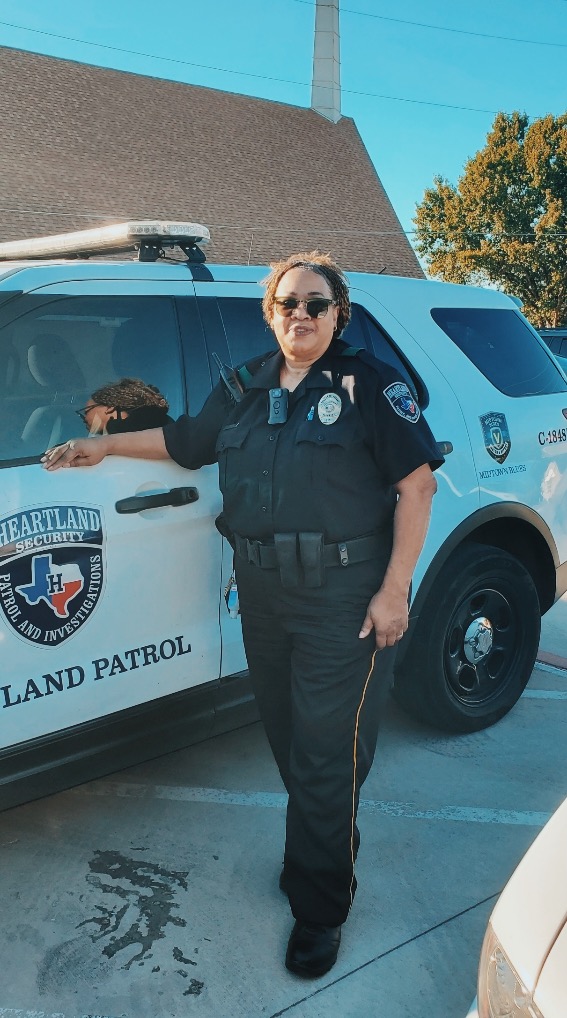 As we've gotten to know Lynn, we find ourselves even more surprised. Lynn is a mother of three boys, who have grown up to make her proud with what they've achieved and who they've become. She not only served her country, broken stereotypes in more male-related industries, but she is also a minister who was ordained in 1996. She was under Calvary Hill in Wichita Kansas and was a youth pastor at Antioch Fellowship Church. She later received ministry training under Pastor Robert Jenkins at World Harvest Family Church right before moving to Dallas in 2001. All of this prepared her to begin a ministry here called Upper Room Faith for The World Harvest.
Her faith empowers her to know what steps to take when confronted with a hard situation on the streets. Working as a security officer has given her an avenue to get to know the homeless community better which has helped her in her ministry work which focuses on feeding and helping the homeless. She recalls one time at work when she met a young man, that she was able to discern didn't belong on the streets. Lynn took a moment, went over to speak with him with a mama's heart, and felt the need to pray and bless him financially, once she did that, she told him "I want you to go home, you don't belong here." We never know the impact of our words.
As an officer, the power of our words and how we act in a situation can make a difference in someone's life. Those simple words marked this kid's life, and Lynn didn't see him for a long time up until two weeks ago. She expressed, "I hadn't seen him for a while until last week, I saw him with a basketball and a little boy… I ran up to him and gave him a hug and asked how he was doing." Lynn explained, "He was with his son and playing with him, it was so exciting to see him, he looked different but in a good way, in a really good way." Lynn had no idea this young man had a son, since to her, he looked like he could still be someone's baby boy. Lynn shared her perspective on how to approach different situations, "there is a time and a place when you must be tough and have a strong posture, but you must always discern the situation while you're out there working on the streets. There are moments a person doesn't need an officer but needs a mother, a father, and a wise counselor. Stopping to discern can make a difference in someone's life." What we love about having women work with us on the field is just that. They know when to be tough, but they also know when to be a mother. Lynn encourages women out there to do what they want, you can do anything, and gender does not define you or limits your strengths. Lynn is proof of that, a mother, a mechanic, a military officer, an officer, a daughter, a minister, and a friend. She has broken many stereotypes and Heartland Patrol is proud to have her on our team.